2021 continues to be a unique and tough year. Covid-19 forced all of us to stay inside and work remotely, and this meant connecting online. We are spending more time on apps and the use of social media platforms spiked because this was how we started communicating with family and friends to stay connected. Even though companies are turning back to office operations, social media recruitment will not come to an end. There is no better time for businesses and recruiters to start engaging with their audience on these social media platforms. Internal hiring and virtual procedures, along with social media recruiting are going to be a key factor for successful talent acquiring post pandemic. 87% use LinkedIn to check candidates, 43% used Facebook and 22% used Twitter.
Even though companies are starting to head back to the workplace, recruitment is still going to be strongly used through social media platforms to locate talent. According to an article published on Up Right, there are a few tips on how to recruit via social media. Read below!
1) Have Your Social Media Recruitment Strategy Ready
The first step in this digital recruiting process is coming up with a social media strategy
Tips to help implement a strong strategy include:
i. Choosing the right social platforms=LinkedIn, Facebook, Twitter, Instagram
ii. Targeting the right candidates=Create a buyer persona to make things simpler
iii. Creating a content calendar=Utilize your team members to help you ready a content calendar
2) Focus on Employer Branding
Having social media platforms helps make your employer brand strong.
Promote your company attributes to make your company seem like a great place to work. A strong company brand will help your company attract unique and talented candidates to hire and will retain employers long term.
Use Blog posts, content, photos, testimonials, etc to increase brand awareness.
59% of candidates use social media to find job openings.
Having a strong presence on social media will increase awareness about your company.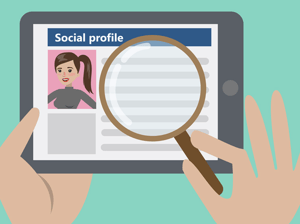 3) Leverage Instagram Stories
Most recruiters are focused on LinkedIn and Facebook, leveraging Instagram will give you an advantage over other potential companies.

Feature your employees, interact with questions, use polls, and live videos.




4) Use Video Interviews and Social Media Combined
Video Interviews are a good way to take advantage of social media platforms.

Make sure there is a link provided for the candidate to apply by clicking.
5) Create A Talent Pool For The Long Term
Building a talent pool can only be possible by leveraging all social media platforms. By doing this process, you can ensure that your long term recruitment of candidates is successful. This will also help increase your candidate base post Covid-19.

A strong collection of candidates who are interested and talented is a good thing to have when returning to traditional hiring.
***
Obviously every company's situation will be different when it comes to recruiting through social media. Many have been doing this for a while, while others are just learning. The pandemic has made technology more advanced, helping recruitment become more efficient. Remembering these 5 strategies will help ensure a successful online recruiting strategy for the foreseeable future.
If you have any questions regarding social media recruiting strategies post pandemic, a Harger Howe account manager would love to answer your questions.