Recruitment is a lot like marketing. When you come right down to it, you're selling something. With recruiting, it's the idea of selling an experience that includes company culture, compensation and advancement opportunities. Marketing is something that has always tied into talent acquisition, but in today's fast-paced world, it needs to be approached in a new way; inbound marketing.
Why do you need inbound marketing as part of your recruiting arsenal? Well, before we get to that, let's take a quick look at the evolution of marketing through the research presented at #INBOUND15 by Gordon Borrell of Borrell Associates:

1915 (100 Years Ago) - 3 Major Forms of Advertising
Newspaper ads

Magazine ads
Outdoor advertising (images painted on businesses and such)
1965 (50 Years Ago) – 7 Major Forms of Advertising
Newspaper ads
Magazine ads
Outdoor ads (images painted on businesses, billboards etc)
Radio ads
Live television ads
Yellowpages ads
Direct mail
1990 (25 Years Ago) – 8 Major Forms of Advertising
Newspaper ads
Magazine ads
Outdoor ads (images painted on businesses, billboards etc)
Radio ads
Live television ads
Yellowpages ads
Direct mail
Cable television ads
In today's world though, there are literally hundreds of networks with which we can reach candidates. We can push notifications to their mobile phones, we have a vast amount of TV channels to choose from, and we have a thousand radio shows for every location imaginable (and live stream too!) With all of these advertising options aka "outbound" marketing, it can be completely overwhelming for candidates. In fact, Borrell made it a point to mention that the average person passes 5,000 ads per day. That person might actually see 285, but in all likelihood, they will only notice six.
In the past, candidates used to see an advertisement or would get a random, impersonal call from a recruiter who really wasn't sure if the candidate was a "hot" lead. Then if the recruiter was lucky, the person would consider their options and possibly take the job. Today, we have a better solution to serve the informed candidate.
Inbound marketing allows you to attract candidates with things that genuinely interest them (area attractions for their families, good school systems, career growth opportunities etc). We do this via blog posts and premium content, which then engages them and allows the recruitment team to nurture them and eventually convert them into promoters of their recruitment brand. This process leaves candidates with a "warmer" feel about your company and the recruitment process at large.

Put yourself in the shoes of a passive candidate. You're sitting at home and you search a keyword phase and find a blog about the Top Ten Colleges in the X City. With your interest peaked, you then look to see where you could get a job in that area in your field. Then perhaps you are offered a link to more useful content by the site that you are already on. You find that helpful and engaging so finally, you reach out on your own to a recruiter. This pipeline is much more organic and isn't pushing candidates to see ads, rather it is presenting something valuable to them in the hope that you can build a long-term working relationship and that the candidates will actively seek your job postings in the future. These sorts of interactions will lead your company toward creating promoters of your recruitment brand who genuinely care about it and as you probably already know, word of mouth is the best advertising campaign.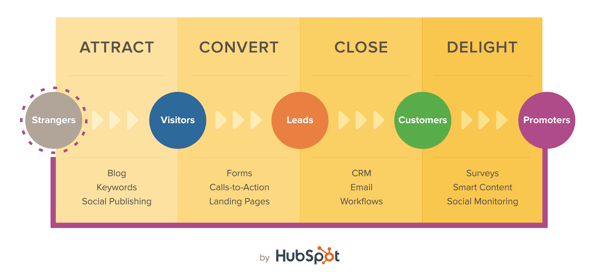 I won't go into the the Inbound Methology in depth, but the basics are that you create content to turn strangers into visitors, then contacts, then leads and finally customers who will promote your brand, or in this case candidates who will tell others about open jobs. It takes a lot of work to initially bring the candidates into the proverbial funnel but ultimately, this method will net you a more engaged talent workforce.
By being proactive and working on inbound marketing, your company will set itself apart from the pack. Market your jobs to people who want to work for you rather than the general population.
Interested in learning more? We are happy to explain inbound marketing in person.