Marketers, recruiters and human resources experts have been reporting that recruitment websites must be mobile for many years. The fact is mobile recruiting is not the future; it's the present. According to the Pew Research Center's 2015 survey data, "28% of Americans have used a smartphone as part of a job search, and half of these 'smartphone job seekers' have used their smartphone to fill out a job application."
With that in mind, one would think that all companies would've already switched to mobile optimized websites, but that is just not the case when it comes online recruitment. The graphic below from PEW Research Center shows that Americans using smartphones have encountered all sorts of issues including content not displaying correctly, non-mobile ready job content, tiny text, issues with attachments and a lack of ability to save their application. All of these issues can contribute to high application abandonment rates.
When you think about it, those sorts of numbers indicate that organizations that do not have a mobile recruiting solution are looking at bleak talent acquisition forecast for the future. A 2014 CareerBuilder survey noted that, "60% of job seekers have quit an application in the middle due to its length/complexity." Now, imagine if on top of your complex Applicant Tracking System (ATS) process, you require that candidates deal with a site that is not mobile optimized…crickets, right? If your site is not mobile friendly, then your application rates are going to stay low.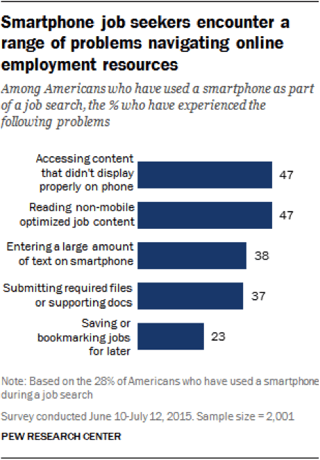 According to John Bell, CEO and President of reThinkData, "high abandonment rates mean employers aren't getting access to all of the talent trying to reach them. Nor are they getting full ROI value from the recruitment sites and job boards they're relying on to send this talent to them. From the candidate perspective, employers appear not to understand or care about the tribulations they endure just to get a resume through the door. This, along with other aspects of a poor candidate experience, tarnishes employment brands from the very first moment job seekers attempt to interact with them."
One solution we've found that can significantly cut down on the application abandonment rate is creating career microsites. What is a microsite? "Microsites are websites that zero in on a specific audience by providing relevant information on a certain topic that interests that particular group." Microsites allow applicants to apply within minutes leaving recruiters with enough basic information to weed out unqualified candidates. This sort of system also allows recruiters to pursue casual applicants who are very qualified, but may not have had time for a full ATS application. If the applicant is the type of person the recruiter has been seeking, they can always ask them to fill out the ATS application after reaching out and forming a personal connection. Typically, candidates are much more receptive to an approach like that as they feel that they are using their time productively.

--
Want to learn more about recruitment and mobile trends? Subscribe!