It's FINALLY cider donut, sweater, legging, boot, pumpkin, apple and maple syrup season! Fall is in the air and our team has some amazing plans for agency initiatives and time off activities. Read on to learn more about what we've been doing as summer winds down and autumn rolls in.

Agency Goals
The agency itself has a few fall goals that we'd like to share with you including:
1. Working toward a more robust LinkedIn network
2. Providing more video content about recruitment
3. Guest blogging more regularly
4. Adding a helpful bot to our website (and maybe adding them for clients!)
Now…on to the good stuff…let's talk about what our team is doing and has done!

Team Member Plans
Here is a curated list of what the fall means to us!
Jamie Taylor, Account Coordinator
"I am going to a Cider Fest in Amherst where you pick your own apples and can press them to make cider! I'm also going to the Milford Pumpkin Fest to see the giant pumpkin contest!"
Frank Miani, Senior Account Manager
"My oldest daughter Sam graduated from SNHU and got a job at Ropes & Gray in Boston as a Litigation Case Assistant AND my youngest daughter, Grace, graduated high school and is off to college at NSCC."
Carolyn Stacey, Account Coordinator
"I am doing goat yoga and going apple picking!"
Mark Wedes and Jackie Wedes, Detroit Partner and Candidate Search Associate
*Fun fact! Jackie and Mark have been coworkers for the past 10 years and married 40 years this October! Congratulations!
"This year we will be seeing the Eagles in concert at Detroit's Little Caesars Arena as part of our anniversary celebration.
Last year's anniversary's celebration (with tickets provided by our son, Sam) included seeing Paul McCartney in concert at the then brand new Little Caesars Arena. If the Eagles perform as magnificently as Sir Paul and his band, which included a number of Beatles songs for three hours that felt like 15 minutes, it will be worth every cent of the price of admission!"
Gillian Barnes, Creative Content Manager
"Fall is my favorite season, but this time around it's extra cool because I have been traveling a lot. I went to #INBOUND18 and learned a lot about Google, Artificial Intelligence, bots, SEO and video. And I also went to New Orleans with some of my best friends to attend the 10th Annual Burlesque Festival (think Dita Von Tesse). It was a really fun time!"
Viktoria Zuban, Graphic Designer
"We plan on enjoying our first fall season in New England! One of the activities I'd like to do during these months is to go on a trail ride. It's a great way to exercise, spend time with horses and enjoy scenic views."
Ken McHugh, Creative Director, Graphic / Web Designer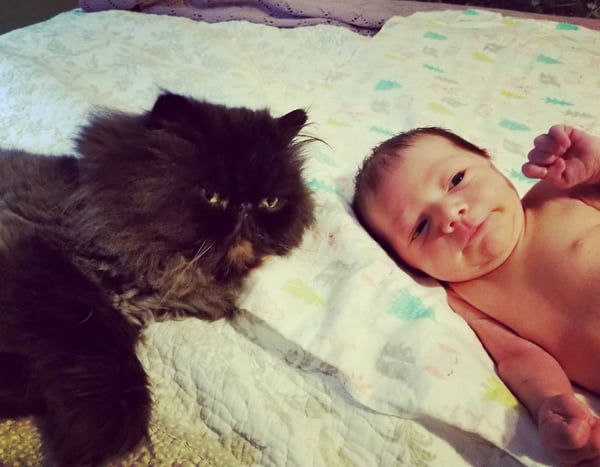 "Me and my wife will be enjoying the fall weather and having adventures with our new son, Bastian."
—
We hope you have an incredible season and that winter holds off a bit this year (we really like Fall!) If you need help recruiting or you just want to talk strategy feel free to drop us a line! Otherwise, you can subscribe below to receive more updates about all the fun things our team does and of course…helpful hints on how to improve your recruitment!