In the world of recruitment it is absolutely essential that you learn how to ride the waves of change. Several years ago, recruiters would post print ads in journals as their primary often their only form of advertising, but along with the emergence of new media and sourcing methods, the field has broadened significantly and the competition has increased dramatically. Despite all the changes in the recruitment market some elements; in particular recruitment obstacles remain the same.
In 2016, recruiters are dealing the following three obstacles:
46% - finding candidates in high demand talent pools
43% - compensation
39% - competition
As if those issues aren't difficult enough, recruiters continue to face ever-climbing hiring volume. Even with hiring budget increasing, it can leave a recruiter miles behind even before they get started. Just take a look at the graph LinkedIn put together below: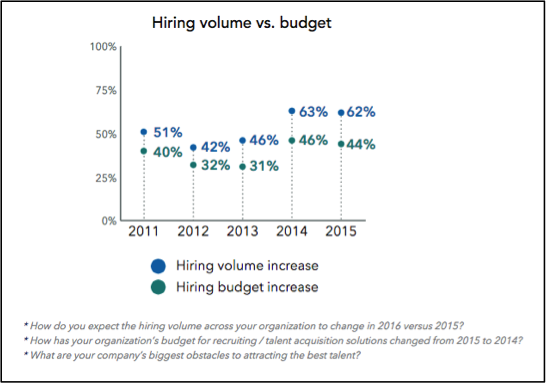 According to LinkedIn's Global Recruiting Trends 2016 report, the following items are true:
39% - agree that quality of hire is the most valuable metric for performance
26% - consider employee referral programs to be a long-lasting trend
32% - say that employee retention is a top priority over the next 12 months
59% - are investing more in their employer brand compared to last year
With those high numbers in mind, recruiters who are focusing heavily on time-to-fill and other metrics need to reconsider their 2016 priorities. Let's examine why these trends are forefront.

Quality of Hire
The old adage quality over quantity wins out when it comes to recruiting because strong employees make a lasting impact and stay longer. Companies measure quality of hire in different ways. According to LinkedIn's research 50% measure it by new hire performance evaluations, 49% measure it via turnover and retention data and 43% measure it by monitoring hiring manager satisfaction. Developing a system that grows and adapts with employee feedback is key to making sure you are hiring for quality.

Referral Programs
We've mentioned referral programs before and that is because they offer great benefits for existing employees, candidates and the company. Existing employees typically take home a referral fee and get to work with a person they value and candidates feel that they have a company contact and therefore a better chance of getting the job. Finally, the company itself gets a boost when it comes to their recruitment brand. The company gains employees that stay longer and they usually get better work performance! Win, win, win!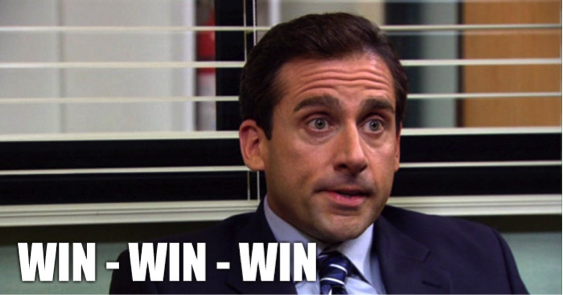 Retention
We've also mentioned in the past that employee retention is just as important as initial talent acquisition. Improving your workplace culture can help this retention rate, but it can also be improved by being aware that top talent exists in your company already! The next time you open up a position, make sure to consider existing employees so that they feel that upward mobility is available. Stagnating in a position is often a reason for an employee to leave. According to the LinkedIn study, employee retention is considered to a priority by 32%, but internal hiring and transfers is only valued by 12%! There's a definite disconnect there…

Employer Branding
We cannot underscore enough the importance of a strong employer brand. All the elements mentioned above, retention rates, referral programs and finding the right kind of quality candidates are made much easier for a company with an established recruitment brand. Celebrating employee accomplishments, promoting hard-working employees, putting defined programs in place to bring in referrals, having fun with your staff and most importantly staying true to the brand you develop will bring in amazing results.
--
Want direct tips for improving your workplace culture? Subscribe!