Close your eyes and think about your least favorite job. What was the worst part about it? Some people will definitely raise their hands citing reasons such as low pay, inconvenient hours or lack of upward mobility, but one of the commonly overlooked reasons for employee dissatisfaction and turnover is due to a lack luster workplace culture.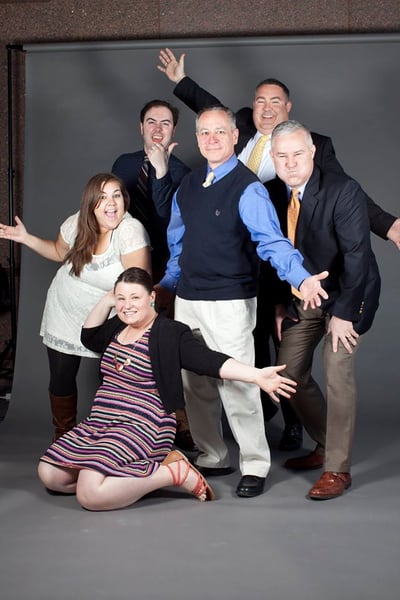 The Harger Howe Advertising Boston team
Making the workplace fun and engaging for both employees and social media followers is absolutely essential. Simply posting pictures of employees working together on a project with a fun tagline automatically makes potential candidates interested in becoming a part of "work home" rather than a "work place." People spend a large portion of their lives at work and when they look for a new job one of the major considerations is whether they will be able to have fun during that time.
Kelly Services noted that, "A pleasant, happy and relaxed worksite leads to loyal and productive employees. Employers record decreases in absenteeism, tardiness and turnover when their staff has fun. People enjoy coming to work and experience contentment with their jobs and employer."
In particular when recent graduates start their employment search they will typically go for a company with a cooler vibe over one that is more sterile. According to DiscoverySurveys.com, "Younger employees are attracted to organizations where there are other young employees and where special attention is devoted to creating a fun environment. Organizations focusing on creating an enjoyable environment do things such as Friday afternoon pizza parties, intramural sports teams, dress down days, ice cream socials, ping-pong tournaments, and Thursday night informal gatherings at the local pub."
So the next time you are looking to hire or increase your workplace productivity consider the workplace culture you have created. How can you improve? How can you make your existing employees happier? The bottom line is that employees who enjoy coming to work will help promote your business every day and their excitement about their workplace will translate into potential leads and new employees. Go forth and recruit!
--
Would you like more information on how you can make your office into a fun, yet productive "work home"? Subscribe!