Last week, Mari Smith wrote a very informative article for Social Media Examiner called How to Customize Your Facebook News Feed: What Marketers Need to Know, which got us thinking…what kinds of things should recruiters do to stay up-to-date with and track recruitment marketing trends on Facebook? These are our suggestions based on Facebook's current settings.
1. Customize Your News Feed to Show More Organization-based News
As Mari mentioned, you can customize what you see in your news feed. Those choices can be anything from public figures to friends and of course pages. Recruiters should use this ability to follow recruitment influencers and relevant organizations so that they can stay in touch with their key candidate demographics.
For instance, if you wanted to make sure that you see posts from The Society for Human Resource Management (SHRM), you would simply hover over the Like (Liked if you've already Liked it) button on the page and then choose Posts in Feed. The basic setting is Default, but that can be modified to read See First if the content is extremely important to you. You can also use this menu to Unfollow less relevant pages that you may have chosen in error.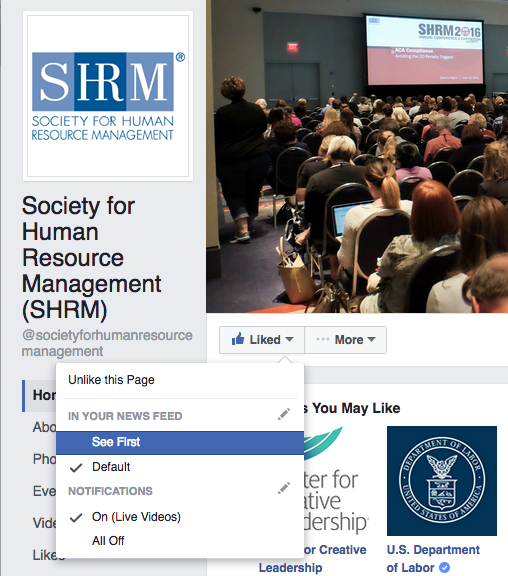 2. Decide What Content You Need to See
In addition to initial page selection, it is important to note what type of content will help you reach your goals. Now that Facebook has released many visual and video-based options, you have more options than you may know about. According to Mari's article, your options include:
You can access these options by simply clicking the pencil icon located next to Notifications and check off your chosen options.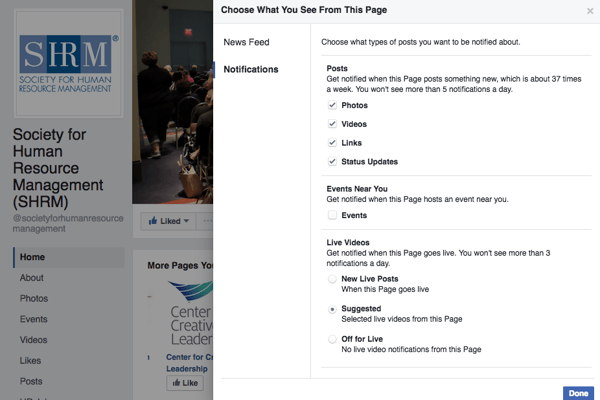 We recommend reading Mari's article in full here in order to learn how to customize your feeds even further by interest and relevance. Additionally, here are some lists of top pages we recommend that human resources and recruitment professionals should consider following:
Human Resources
Recruitment
Healthcare Human Resources
--
If you liked this article, consider signing up to receive our monthly newsletter which is packed with recruitment articles and tools.