As I mentioned in my previous blog, Facebook made an announcement last week that will affect pages. This is because the newsfeed is making a concerted effort to show users more of their friends' updates. With this change, it is more crucial than ever that recruitment marketers adjust and start posting more visual and interactive content so that Facebook candidates see the value of the post and share it. The key here is shares. Likes are not nearly as important as the viral aspect of sharing. With that in mind, here are some fun, visual ideas to use for your recruitment marketing on your careers Facebook page.

Post Jobs with a Relevant Picture
Just because you are sending out a job posting into the Facebook universe doesn't mean anyone is going to see or care about it. To combat that issue, try adding a picture to your posts! For instance, if you're advertising for a Neurosurgeon, consider adding a picture of some brain cells or something that may actually interest a Neurosurgeon (or someone who knows them) to click and share the post. A picture is worth a thousand words after all!

Document Your Company Events
Make sure someone at your staff events is able to take a few quick smartphone snaps of the festivities. You can use these images later on to produce a wide variety of posts about that event from different angles! For instance, this Facebook post below shows people who Like our page that we are active at industry events and that employees are there to discuss our business services.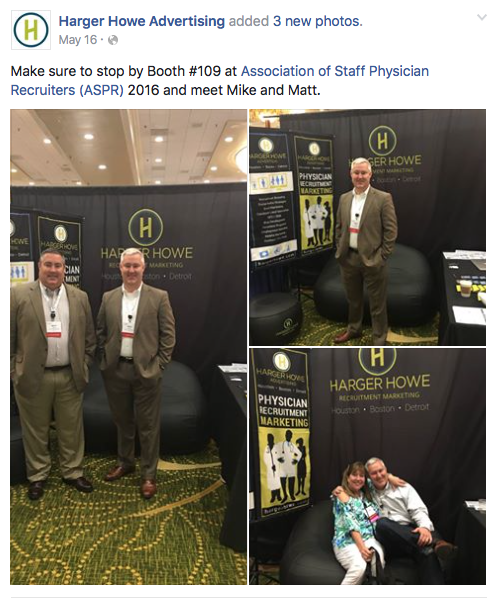 Promote Promos
One of the things we are particularly proud of is the tradeshow items we produce for our recruiters. You'll notice that whenever we receive a shipment of new promo products we take a picture and share it on Facebook and Instagram (which is a company that is linked to Facebook ads now). For instance, below is a shot of Dartmouth-Hitchcock recruiter's recent digicleans.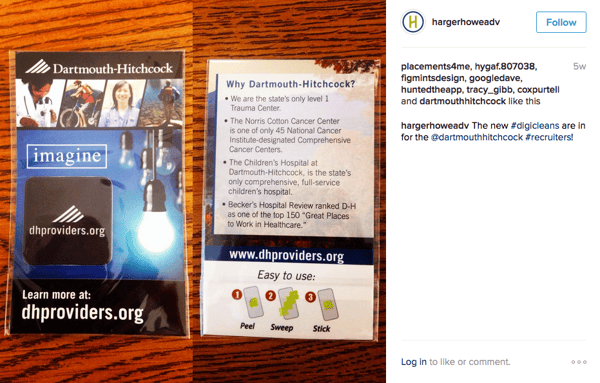 Celebrate Anniversaries and Birthdays
Your company is more than job postings and corporate events; it's a community! One of the best and simplest ways to build a sense of community is to celebrate the employees within it. Birthdays and anniversaries are great ideas for employee recognition and, by association recruitment branding.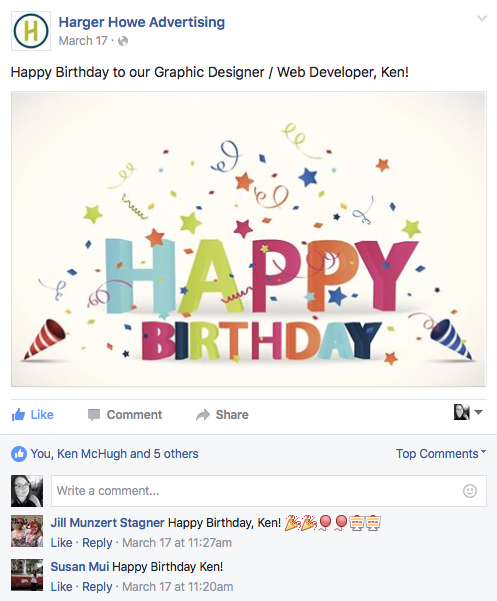 Be Funny and Timely
Consider making little custom graphics for timely situations. For instance, the Oil and Gas industry is on the upturn, so one of our staff members created this cute little piece with the tag, "Looking Good at 50!" It catches peoples' attention and leaves them thinking.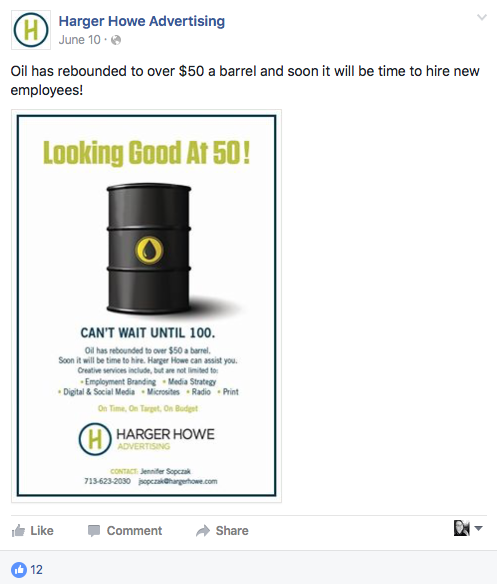 Add Video to Your Strategy
Video content is easily produced in the era of the smartphone. You can use Facebook Live to broadcast your events or answer questions, you can take video testimonials from enthusiastic employees or you could even produce a little tour. People love videos (especially genuine ones) as they are able to show real people doing real jobs and that makes it easier for them to imagine starting a career at your company.
--
Social media is important to a well-rounded recruitment advertising and employer branding strategy. Want to learn more? Subscribe!