If you haven't seen it yet, the HEALTHeCAREERS Salary Guide 2018-2019 has officially dropped. At Harger Howe Advertising, that's a big deal because it directly influences many of our clients' strategies for recruitment.
Why? Because it is one of the only times per year when a baseline salary ranking is available for general consumption. The downside of this report is the simple fact that the document is more than a page long, and in the world of time-crunched hiring professionals…time is not a luxury.
Never fear! We've already pulled out some of the most valuable information for you! Ready? Let's get into the thick of it.
Where'd the Information Come From?
Good question! According to the report , "Data for the 2018 Salary Guide is based on survey responses from more than 20,000 healthcare professionals, with 7,753 responders providing salary information. The healthcare occupations of the survey respondents included physicians and surgeons (65 percent), nurse practitioners (21 percent) and physician assistants (14 percent)."
Job Market Confidence
Unlike previous recruitment years, job market confidence seems to be relatively high right now with 55% of respondents reporting that they are "very confident they can find a new position in the next few months" and just 1% feeling that "it's nearly impossible to find a new job." However, per the report, most providers are actually very happy and not planning on taking the leap to another role even with confidence running high.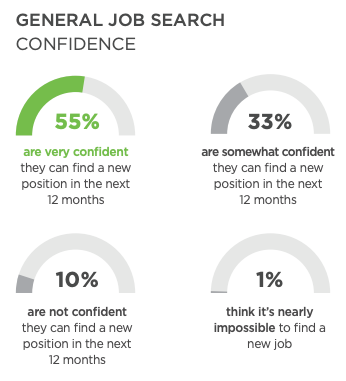 What does that mean for recruiters? It's time to practice wooing on a whole new level. Get your offers in line or above the market and make sure you are providing something unique if you want to score some time with sought-after providers!
Happiness
This report found that the happiest providers work in:
Ophthalmology (51%)
Otolaryngology (51%)
Dermatology (49%)
Rheumatology (45%)
Geriatrics (42%)
Orthopedics (42%)
Conversely, the unhappiest providers specialize in:
Family Medicine (13%)
Occupational and Environmental Medicine (12%)
Radiology (12%)
Adult Gerontology (11%)
Gastroenterology (11%)
General Surgery (11%)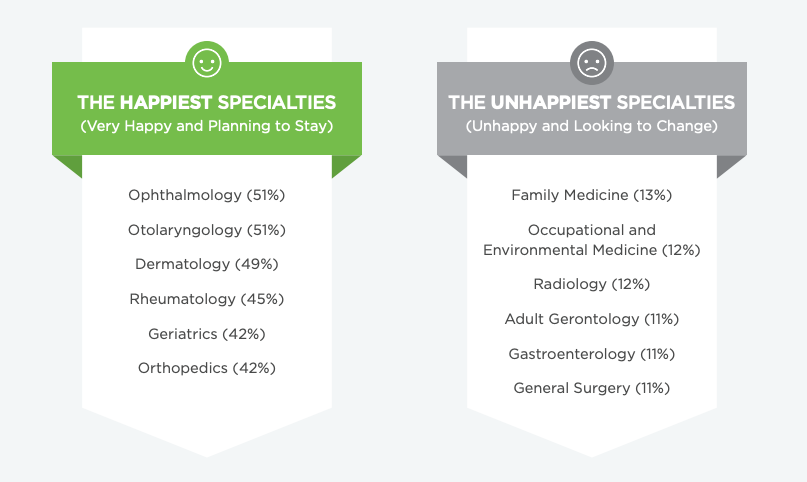 While 35% of all the providers surveyed are very happy and are planning to stay (which is up 14% over 2017's numbers), there are still 9% who consider themselves downright unhappy.
What does that mean for you? You are going to have to work much harder to bring the happiest provider specialties to your health system. Decide now with leaders how you plan to make your offers more competitive. On the other hand, within the unhappy sector, there may be an opportunity to pull talent into your organization. Review the list and craft a recruitment strategy that utilizes both ends of the rankings.
Top Concerns
While Pathology isn't one of the specialties that falls in the happy or unhappy list, it is the most likely to change employers within the year. The rankings are as follows:
Pathology (24%)
Internal Medicine (20%)
General Surgery (18%)
Urgent Care (23%)
Critical Care (19%)
Occupational and Environmental Medicine (17%)
Hospitalist (23%)
Pain Management (20%)
Endocrinology (17%)
Adult Gerontology (22%)
Family Medicine (19%)
Oncology (17%)

So, what can you offer this target group? The top-ranking needs seem to be a better work environments, better hours and more rewarding work.
Compensation
In an ideal world, everyone would be satisfied with their salaries. Surprisingly, this year, many providers actually are. The report found that 20% are currently very satisfied and 39% are somewhat satisfied with only 10% ranking as very dissatisfied. This is further evidence that you need to offer quality of life in addition to salary if you want to win over today's providers.
--
When you have more time, we encourage you to read the full report as there is a lot more information regarding specific compensation and happiness. Now go forth and recruit…competitively!