As a recruiter, it's really important to position your open roles in such a way that they will appeal to the right candidate audience. Part of that positioning requires learning what job seekers look for in careers. We did some digging and found that candidates are looking for all of the following in potential employers.
A Clear, Quick Application Process
Candidates who are actively seeking new employment are filling out a lot of applications and are spending countless hours researching companies. According to CareerBuilder, "One in five candidates said they are not willing to complete an application that takes them 20 minutes or more, and 76 percent want to know how long it will take them to finish an application before it starts."
Ultimately, through our efforts on behalf of our clients we've found that a short form application is the best way to acquire candidate leads. Once the candidate knows that a recruiter is actively interested, they are much more likely to complete a long-form applicant tracking system form. Recruiters need to understand that it is not worth losing a hot lead to a long-form application process. Warm the lead up and watch how much more engaged they become.
Quick Response Time
By the time job seekers start an active job search, they are not willing to wait for very long to hear back from a company. Per CareerBuilder, "Sixty-six percent of job seekers said they will wait less than two weeks to hear back from the employer before considering the opportunity a lost cause and moving on to another." This means that even if you don't complete the hiring process right away, some form of contact should be made sooner rather than later. Losing talent to a lack of speed is just unfortunate.
The Ability to Research
Many platforms have made moves towards promoting the importance of a social footprint. If you don't have a social media presence, Google will penalize you and deem you "irrelevant." If you don't have a website, candidates do the same. CareerBuilder noted, "Most candidates (64 percent) said after reading a job posting, they will spend time researching before applying. If they can't find the info they need on the company, 37 percent of all candidates will just move on to the next company or job listing. Your company career site and social presence must be strong."
They Expect You to Be Social
This point tags onto the research element. Candidates expect a social careers experience. Jobvite's recent study noted, "Social media is pervasive. 67%of social media job seekers use Facebook; only 35% use Twitter. Meanwhile, 59% use social media to research the company culture of organizations they are interested in." The fact is, you have to be socially active in today's world and when it comes to careers you really should have social media career pages to be successful.
Pay and Location
Some things never change, or at least it seems that way. According to Jobvite, candidates are still most concerned with compensation and geographic location. Other concerns are listed with percentages below in the Jobvite graphic.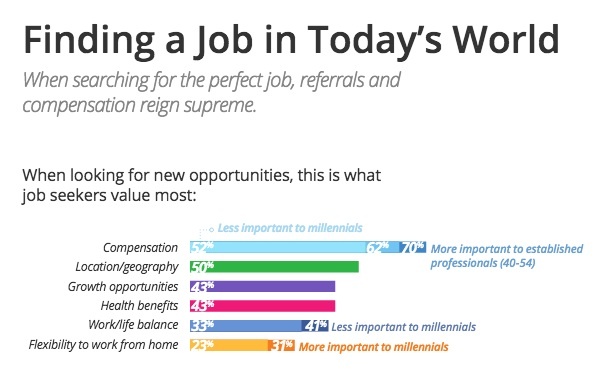 While those two values reign supreme, don't forget to make sure your company offers opportunities for professional growth and competitive health benefits as those are a close second in ranking.
Conclusion
You can't always offer the top paying career. You can't always offer the ideal location. What you can consistently offer job seekers though is a quality application, interviewing, onboarding and post-hire experience. As a recruiter, you are the first person that candidates will speak to, so make sure that the experience you provide reflects all that your company can offer candidates.