2017 certainly has been a year of change for recruitment strategy. Inbound recruitment marketing has become a widely adopted approach to more traditional outreach methods, almost all of the job boards are marketing themselves with mobile-optimized technology and apps, people are being replaced by artificial intelligence and finally, Google may be on the verge of launching their solution to the applicant tracking system (ATS). Here are some things to think about this year in the world of recruitment that will help you develop a better recruitment strategy.
Will Google replace your ATS?
For many years, Harger Howe has pushed the idea that long-form ATS platforms are a barrier to getting applications. We have consistently promoted creating recruitment career sites with short forms on custom landing. These are pages designed to either sort applicants into "personas" upon an initial application and to include them in a nurturing talent community. These solutions have provided our clients with success. Google's solution to the ATS may be utilizing the same line of thinking.
While we have not seen the backend of the Google Hire beta test, we do know several details thanks in part to crunchbase's research.
1. Google has started an invitation only beta test with the following companies:
Medisas
Poynt
DramaFever
SingleHop
CoreOS
Nanz
Touchlab
Calendly
Citizen Inc
Pace Avenue
2. At least part of this project involves short forms
The graphic from crunchbase's recent article shows that Google's hiring platform is utilizing limited fields such as: first name, last name, email, phone number, website, resume and cover letter, however only the first three are required. This form is almost identical to the forms we use to capture candidate leads for our clients. It is clear that Google is thinking about hiring as gathering candidate leads versus traditional application submissions. Many recruiters have been conditioned to think that all applicants need to go into the applicant tracking system, but that isn't neccessarily true. Chances are that certain applicants will never join your ATS due to the time investment and that doesn't mean they are less valuable leads! Passive candidates are often outstanding talent and Google knows it. By allowing candidates to submit a short form application, it opens the conversation to more personalized recruitment.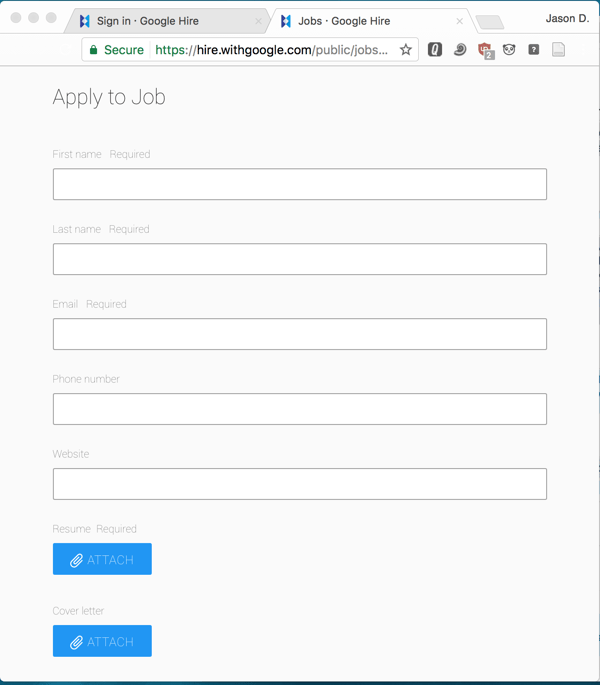 The question is, will recruiters be willing to take the leap to short form candidate lead gathering? We imagine they will have to. As more technologically savvy applicants enter the workforce, we predict that they will demand a more streamlined and responsive process.
Will certain roles disappear?
There is a growing group of thinkers that believe within the next few years, roles such as cashier will become obsolete due to artificial intelligence that is already being used. For instance, in Peter Diamandis' recent LinkedIn pulse article he noted that he believes the following roles will phase out first: "Three that come to mind: Truck drivers, retail, and supermarket workers and cashiers." Diamandis asserts that this phase out process will be due to the idea that fully autonomous stores will outpace stores with humans in these roles.
For instance, he points to the current pilot program of Amazon Go. "Over the last few months, Amazon has established a store called Amazon Go, which is a cashierless retail store for Amazon employees only. The reason it's only for Amazon employees is that they're doing tests to see how it works.
Currently, Amazon employees access an app, enter the store, and then simply take what they want off the shelf. That's it. A system of cameras and sensors can observe what you're taking and how many, and Amazon charges the correct amount to your account. All you do is walk out -- no checkout and no cashiers. The tech isn't perfect yet, which is why Amazon is doing this as a test, but it will get better and it will ultimately become how stores transact purchases."
With this new technology being realized will recruiters who focus on finding retail, food service and transportation workers find themselves with a different focus? Most likely.
And, what will the former cashiers and truckers of the world end up doing? Diamandis champions the idea that those workers should get in touch with what they wanted to do initially. Go back to school. Learn a trade that won't be replaced by an automated process. The real question is, how can both parties find a way to make this change a positive one? Well, one solution that comes to mind is setting up job training in-house. Workers will benefit from learning new skills and recruiters and the companies they work for will benefit by having a highly skilled in-house talent pool.
Will reviews become the new recruitment currency?
We already know that as a society, we exist in a review-centric time. From Yelping restaurants to starring small businesses on Facebook, feedback is everywhere. For recruitment, this means that the popularity of such sites as Glassdoor is rising. Here are some facts specific to Glassdoor that will provide a better picture of how candidates decide on their next career.
Glassdoor completed their own study to find out if reviews really change the way current and prospective employees view companies. It turns out, they definitely do! For instance, if a candidate reads a negative review of a company, they are much less likely to view the employer favorably, submit a resume or recommend that company. Additionally, a negative review also spikes candidate salary requests. Finally, employees and potential candidates believe people over recruiters' efforts to promote their company or win awards. We'd included some of Glassdoor's charts below.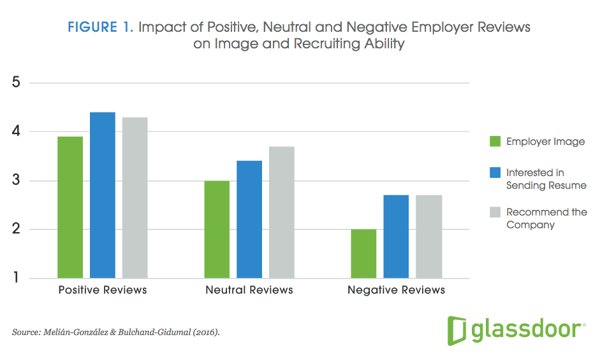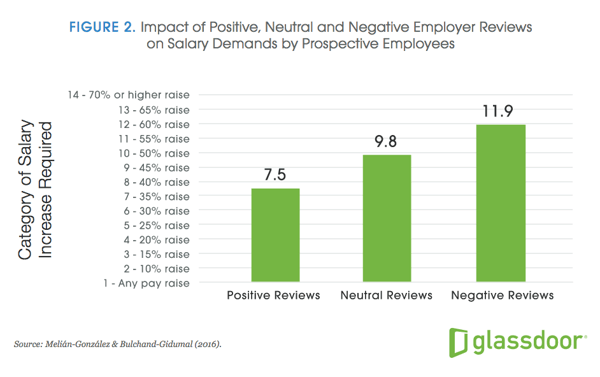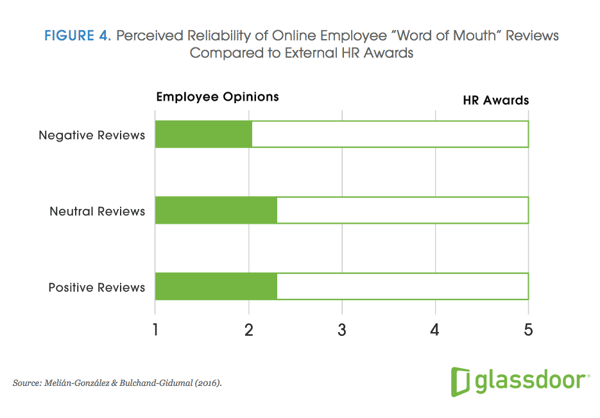 We recommend that you look through the rest of their findings in the complete report here.
So the point is this: once more people become aware of the positive effect real reviews can have, will others enter or increase their investment in the space. We think so! For instance, in the future we see sites like Indeed and other boards putting a strong emphasis on garnering reviews to support their boards. We also think that forward-thinking organizations will begin to put their reputation first by soliciting reviews from current employees. This will be a strong change in the right direction towards a fully-integrated recruitment strategy that is much more candidate-focused.

--

Did you like this blog? Would you like to stay up-to-date with other recruitment trends and stories? Subscribe.