Harger Howe is a highly specialized advertising agency focused on recruitment marketing. So what does this mean? It means our account managers, designers, web developers and social media/content specialists are experts at crafting effective messaging and developing targeted strategies at the right jobseekers for our clients. Many people do not realize the complexity and nuances of developing an effective employment brand identity. This is why we felt compelled to write this article. In today's hyper competitive environment for talent, the companies that understand and invest in developing a strong recruitment brand identity AND focus on the right strategy and technology are the winners in the war for talent.
We Understand Recruitment
When you are marketing a product, the creative process becomes about the tag line, the imagery and essentially the end product. At Harger Howe, we understand that recruitment marketing is not a finished product; it's an ongoing, organic process. Careers and lifestyle choices are not linear.
Yes, we utilize many of the same processes and media as a "product" agency, but we use them in a very different way. We build communities and talent pipelines that exist to help people make educated life choices. Recruitment branding is so much more than a campaign; it's about the lifeblood of an organization. Our job is to evoke a very emotional response from the jobseeker about the employer.
"Nobody wants to work for an organization that does not have a strong identity. People want to have a connection with their employer and feel that there is a shared sense of values." Mike Walsh, President, Harger Howe

Recruitment Marketing Is A Niche
While we pride ourselves in being able to work on any recruitment campaign, we do have significant strengths in specialized areas of the market. Our expertise is extensive in the following areas:
Healthcare Recruitment (Including Patient Acquisition)
Energy/Oil/Gas
Retail
Arguably, our strongest area of expertise is healthcare marketing. Why is that important? Here are just a few reasons:
We have existing relationships with representatives from all types of media, associations and organizations. This means we already have the pricing you need to show to your team today. It also means we know what actually works. Finally, it means that if there's a pressing need, we can put together a comprehensive plan for you within a day. A product-marketing agency may be able to put together the same plan, but the learning curve alone will cost you significant time, money and possibly candidates.
We monitor relevant hiring news, which means that we track trends that allow us to:
1. Alert you to new hiring opportunities (such as company lay offs)
2. Help you maintain your image and credibility with an employee relations and retention plan as well as a public relations strategy for external communications.
We Are Inbound Marketing Certified
About two years ago, Harger Howe went through a rigorous process of becoming a Hubspot Certified Agency Partner. For those who aren't familiar with Hubspot, they are the industry standard for inbound marketing tools. This means that as an agency, we have taken an extensive course load, passed tests and submitted practicum-based proof of our knowledge of both the concept of Inbound Marketing and the use of the Hubspot Inbound Marketing platform. During this process, we also earned our Email Marketing Certification, Hubspot Certification and Inbound Marketing Certification.
We chose to get certified in this technology because it allows us to track social media interactions, send successful email campaigns, publish blogs that rank well for keywords, discover trends in our clients' content and so much more.
"Using inbound marketing principles allows us to provide transparent results to our clients as well as a soup to nuts software solution for their social networking needs and beyond." Gillian Barnes, Creative Content Manager, Harger Howe
Inbound Marketing is a new way of reaching customers by providing value and nurturing a long-term relationship. Inbound Recruitment Marketing builds on that concept by providing educational resources so that candidates can research companies they may not have known about otherwise. This new type of recruitment strategy allows recruiters to reach candidates who are both passive and active without appearing too forceful in their selling process. The future of talent acquisition is about providing information to build informed candidate pipelines and we can help.
--
"There are all types of ad agencies out there that do a great job. I look at it this way. If you have a heart condition you need to see someone that specializes in that type of medicine. There are lots of doctors out there, but a Primary Care MD is not going to be able to fix your heart. You would want the best Cardiologist out there wouldn't you? That is just like recruitment advertising. You want someone that has a intimate knowledge of what you are trying to accomplish working on your campaigns," said Matt Walsh, Director of Client Relations, Harger Howe

It comes down to experience. Would you rather have a pilot flying your plane or Indiana Jones? Indiana Jones would figure it out, but you have to admit that the landing process may be a little bumpier than you'd like.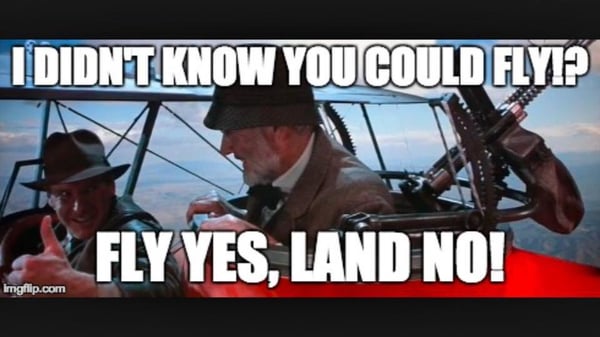 *Image from the @harrisonford_ Twitter account
We admit it, we're a bit biased, but we hold ourselves to the same standards that we promote. When we hire, we run the same types of campaigns we suggest for our clients. We know recruitment. We care about recruitment. We know you.
Are you interested in learning more about hiring a recruitment advertising agency? Reach out!