Are you struggling with using Indeed to make new hires? Maybe you're frustrated by the lack of candidates you're receiving, or you feel as though you're not attracting the right job seekers. It could be that you just aren't utilizing the platform to its full potential! There are several ways to attract and screen candidates in a more efficient fashion. Don't worry, we've done the research and identified tricks and tools to use on Indeed to find your next great hire.
1. Be Specific About Requirements
Make sure you've completely filled out the qualification fields! Indeed allows you to include a form with various questions for applicants to fill out before submitting their resume and cover letter. You can ask them questions about their education, experience, certifications, and more. This is a quick way to screen your applicants to see if they meet the basic criteria for the position. Use the requirements section to your advantage by including questions specifying exactly what you're looking for.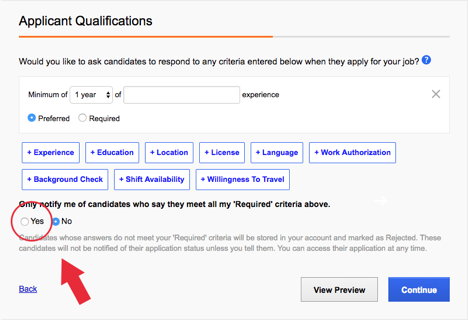 In addition to choosing asking the right questions, There is an opportunity to choose whether the qualifications included are preferred or required. If there are some requirements that are absolutely necessary for your open position, you can set it up to be notified only about the candidates who meet that criteria. Be sure to select "Yes" under the section that says, "Only notify me of candidates who say they all of my 'Required' criteria above." It automatically defaults to No, so make sure you change the selection if you'd like to filter your applicants using these questions!
2. Use Automated Assessments
Did you know that you can require candidates to take a virtual assessment before they submit their application through Indeed? A relatively new feature – the Automated Assessments feature is a fast and effective way to evaluate your applicant's knowledge and preparedness for the role! Created by expert psychologists, Assessments allow you to personalize the application process and get a better idea of the candidate's applied knowledge. There are 50+ tests with varying different formats that allow you to screen your candidates. How applicants score on these short evaluations will help you identify top talent!
Do you want to learn more about how you can utilize Indeed's automated assessments? Click here.
3. Try a Targeted Ad | Apply Campaign
If you feel like you're not attracting the right candidates for your job postings, we have solution for you. Indeed now has targeted ad campaigns, called Targeted Ad | Apply, that will help you source candidates by narrowing down your applicant pool.
These targeted ads will increase the exposure of your company and direct job seekers to the types of positions they're looking for. In fact, Indeed reported that when using Targeted Ads | Apply in addition to Sponsored Jobs, positions in nursing reached 34% more candidates, customer service positions saw a 63% increase, and the sales oriented roles gained 116% more exposure!
The campaign setup process is quite simple - just identify the audience that you're looking to target for your opening by either location, title, search history, or skills/experience and Indeed's software then takes your selections and determines appropriate candidates to serve your ad up to. For more information on how to get started, watch the short video below!
Indeed is a popular platform that is essential to use for hiring campaigns in all industries. Staying on top of Indeed's latest updates, tools, and features will keep you ahead of the game in a competitive job market. Do you need help advertising your openings? Harger Howe is your one stop shop for all things recruitment marketing!
Sources: