As early as 2015 TLNT HR was reporting in their blog "Hiring Job Hoppers: 10 Reasons Why They Are So Very Valuable" that, "changing jobs frequently has become the norm rather than the exception." The fact is, the new norm is being open to many career opportunities and "hopping" when a better one coes along. With that being said, there are certain industries and types of people who tend to hop more frequently according to LinkedIn's research and article, "Will This Year's College Grads Job-Hop More Than Previous Grads?" Here are some of the key research findings that will help you forecast who might consider leaving your workforce and what you can do to retain them.
1. Younger Candidates
As you can see from the graphic above from LinkedIn, younger graduates are more likely to job hop. There has been a steady increase between graduating year and hopping. LinkedIn's blog hypothesizes that this new trend may be the result of millennials trying out many options prior to settling down in one industry. This is very possible as accepting lots of opportunities provides a great way to build your personal network.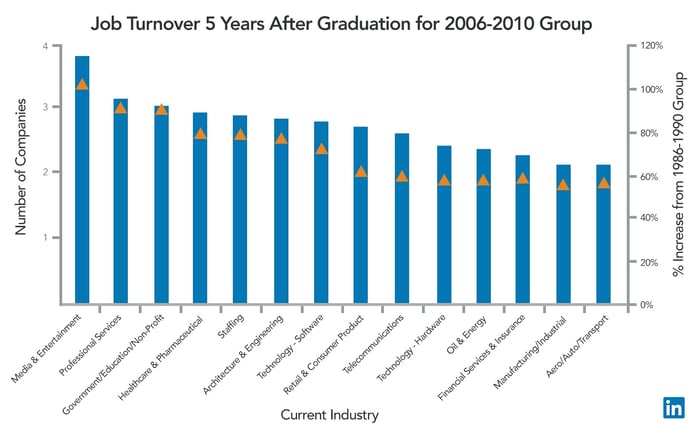 2. Media and Entertainment Professionals
Job-hopping seems to be particularly prevalent in the Media and Entertainment industry. One reason why that may be is because those types of jobs are always changing and evolving. For instance, directors or sound designers won't be working on the same project once the movie ends. I probably not a bad thing though as it may mean they are very successful and moving on to another opportunity with a different studio.
Professional Services, Government/Education/Non-Profits and Healthcare and Pharmaceuticals are also high on the list when it comes to job-hopping. These sectors are sought-after, so solid candidates may jump more willingly than those in other industries.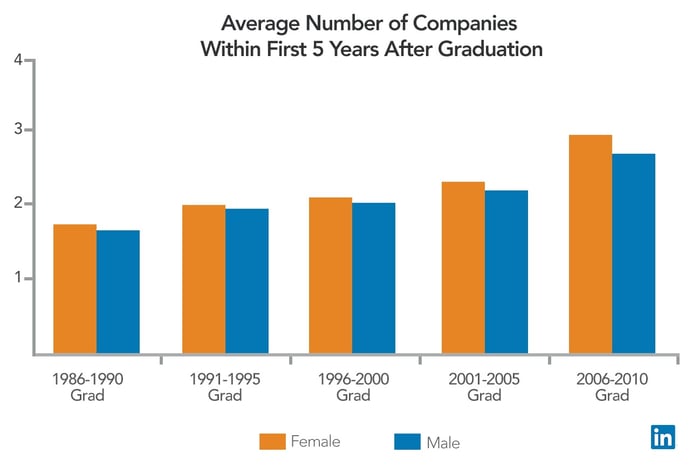 3. Women
In addition to industries and ages, it seems that women are slightly more likely to job-hop, so don't be surprised if you see a larger quantity of applications from women who are also new graduates.
So how do you confront the ever-growing job-hopping trend? Since the trend shows no sign of stopping a logical course of action would be to look at why employees have moved on and make appropriate changes within your company. According to LinkedIn's "Why and How People Change Jobs" 2015 data, here are the reasons by percentage why candidates have moved on.
Concern for Career Advancement – 45%
Unsatisfied with the Leadership of Senior Management – 41%
Unsatisfied with the Work Environment / Culture – 36%
Wanted More Challenging Work – 36%
Unsatisfied with the Compensation / Benefits – 34%
Unsatisfied with the Rewards / Recognition for My Contributions – 32%

--
As you can see by the numbers, people who left their companies are seeking more than money. Topping the list is career advancement, so making sure that you are capitalizing on internal talent is important (and should be considered one of the long-term recruiting trends). A close second has to do with upper management. If that is the case in your organization, consider implementing a system that allows current employees to give honest feedback. And third on the list is company culture. We write about company culture and the importance of building that sense of community quite regularly. Making sure your company culture is strong will allow you to retain talent and recruit new staff.