Native advertising, or as Small Business Trends defines it, "a form of online advertising that matches the form and function of the platform on which it appears" is great way to increase awareness of your employer brand or your open positions. Basically, native ads primary function is to adapt to different environments by looking similar. Building your employer brand is half the battle to obtaining candidates, so lesser known companies should really invest in native advertising to boost their awareness. Here are some examples of native advertising platforms that you can use to increase awareness of your recruitment branding.

Twitter
Sponsored tweets are considered to be native advertising. They are indistinguishable from regular tweet with one minor change. The only aesthetic difference between a promoted tweet and a regular tweet is the word promoted that can be found in the lower left corner. Twitter actually uses its own platform to promote different aspects of the company as you can see from the example below.
You can use promoted tweets to sponsor job content, blog articles or even just helpful information about your company. The more awareness you build about your company and the types of careers it offers, the better chance you have of being recognized when it comes time to posting a one-off ad for a specific vacancy.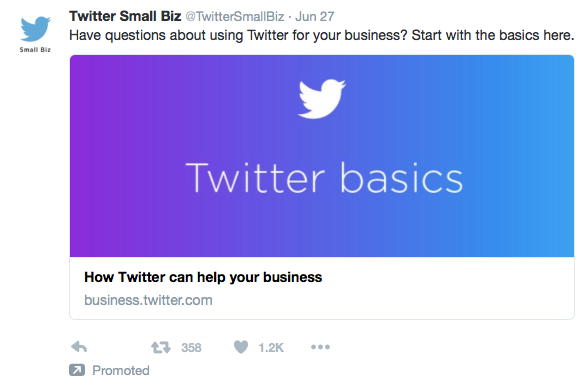 Google and Other Search Engines
Google and other search engines offer one of the more obvious native advertising platforms in that each time you search, you pull up what is obviously noted as Ad (from Google Adwords). For instance, if you were to put in the keyword native advertising, three ads would appear prior to the organic search results.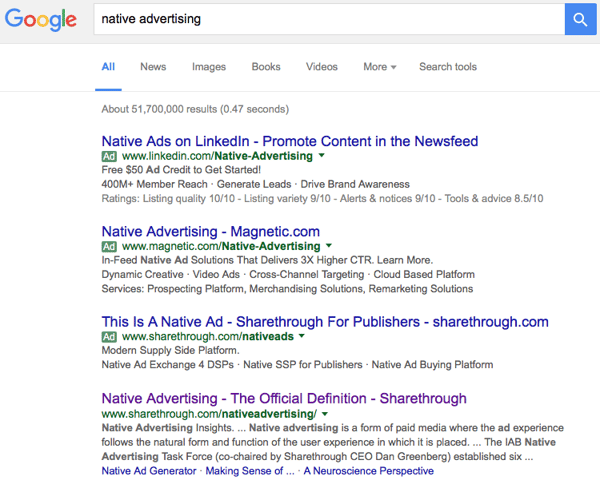 Adwords campaigns are great options if you are trying to promote a local recruitment event because you can focus in on exactly where you'd like to target, what keywords your ideal candidate is searching for and you can direct those candidates right back to a clean event landing page. Highly visible; highly effective.
Instagram
It was only natural that Instagram should choose native advertising. As a visual medium, promoted image posts integrate seamlessly into the interface and they generate a lot of interaction. Currently, Instagram offers three ad formats including: photo ads, video ads and carousel ads, all of which present natively.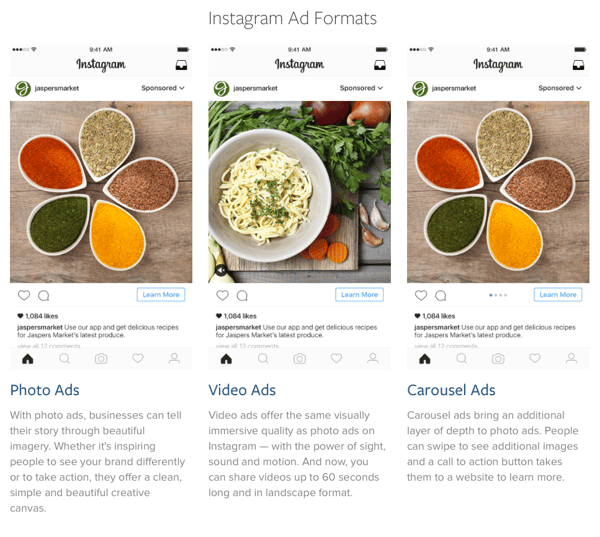 Most social networks and websites offer some form of native advertising. For instance, LinkedIn has sponsored content and YouTube (owned by Google) offers native ad placement within their videos. Native advertising is rapidly becoming the social norm.
In fact, Facebook Audience Network noted that, "By 2020, 75.9% of all online display advertising revenue will be mobile at $84.5b" and "by 2020, 63.2% of mobile display advertising will be native, which will make up $53.4bn in advertising revenue." Mobile optimized and native advertising are going to be buzz words for the next few years. Make sure your recruitment brand marketing ad strategy includes both native advertising and mobile optimization for all your properties (such as your website).
--
Want to learn more? Subscribe!