Many studies have found that physician burnout is at an all time high. For instance, the American Medical Association and the Mayo Clinic reported, "burnout and satisfaction with work-life balance in US physicians worsened from 2011 to 2014. More than half of US physicians are now experiencing professional burnout." And, according to The Journal of the American Medical Academy's (JAMA) recent article, US Residency Competitiveness, Future Salary, and Burnout in Primary Care vs Specialty Fields, "the divergence is clear: non primary care fields are now nearly 1.5 times as competitive as primary care specialties, while primary care specialties have roughly half as much earning potential. These results may suggest that primary care fields attract fewer US medical students owing to their comparatively low salaries and high rates of burnout and bias." Basically, in a nutshell, the more competitive the specialty, the better chance providers have of avoiding burnout.
The Numbers
According to the JAMA article, researchers "found a strong positive correlation between the competitiveness of US residency spots and median specialty." As you can see from their chart, Family Medicine and Internal Medicine are at the bottom of the barrel when it comes to median salary and specialty fill rate. Considering that the Association of American Medical Colleges' final report from April 5th 2016 stated, "projected shortfalls in primary care range between 14,900 and 35,600 physicians by 2025," the problem of existing primary care provider happiness is going to become increasingly more important.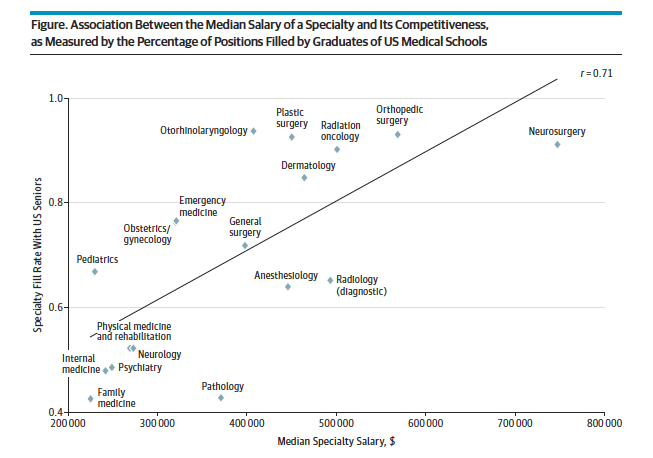 Average Salaries
According to the JAMA article, "Primary care specialties had lower mean salaries than nonprimary care specialties ($228 684 vs $413 915) and lower rates of competitiveness (53% vs 73%); the 3 lowest earning specialties were the primary care fields. Of all specialties, family medicine had the lowest median salary ($221 419) and competitiveness (43%)." The full list of average salaries and factors that JAMA took into consideration during this study are below: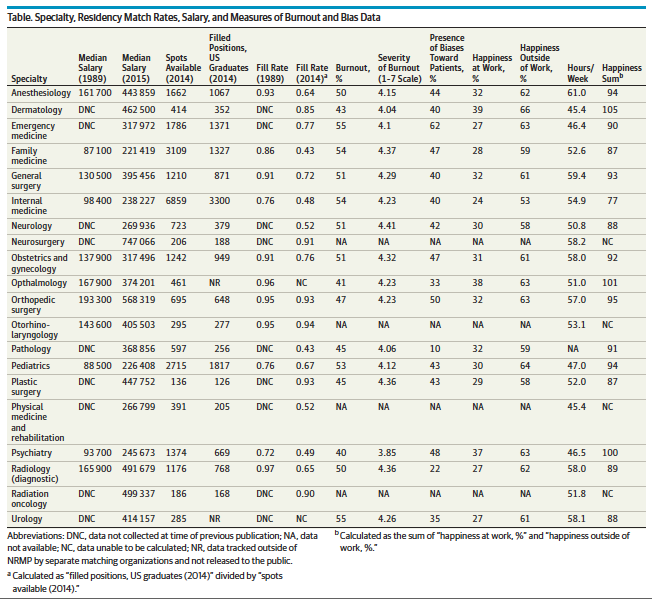 The Solution
As you can see from JAMA's research, fill rates are down and physician burnout is up across the board, but nonprimary care specialties aren't suffering in the same way primary care ones are. Therefore, it is time for healthcare systems to put a plan in place to help primary care providers feel valued and obtain similar lifestyles to those of their nonprimary care colleagues.
Take the time to interview your existing primary care providers and ask them why they may be less than ideally happy at work. Identify trends from their feedback and integrate them into both existing staff policies and packages as well as into new hire offers. Positioning yourself as a healthcare system that listens and responds to the feedback from their primary care physicians will help you become an employer of choice even without raising salaries.
In conclusion, it is clear from the article that renewed focus needs to be placed on primary care recruitment and retention strategies. While work life balance and open communication are great ways to help all of your staff physicians feel good about their work life and free time, it seems that more attention needs to be paid specifically to primary care providers. Start a conversation with your providers today, you'll be happy you did.
--
In addition to work life balance, salary is an undeniable factor when physicians look into switching jobs, which is why we created our Physician Compensation Worksheet.