There is a bit of fear associated with hiring a direct search firm for candidate sourcing. Why? We think it's due to the fact that there is a lack of clarity surrounding the process, price tag and general efficacy. There are also varying degrees of professionalism and skill within the industry. However, a vetted, lauded search partner can actually save you money. Let us illustrate…
Average Cost and Time to Fill
If you are reading this, chances are you have a high-level role open within your company. And each day that it sits open, it is costing you. It's true, you can continue posting on job boards, but at some point, if that process isn't yielding results, you may need to involve someone else who can more actively find you some talent.
On a regular basis, our direct search division fills roles within Human Resources, Healthcare and Leadership. Consider these benchmarks from Workable: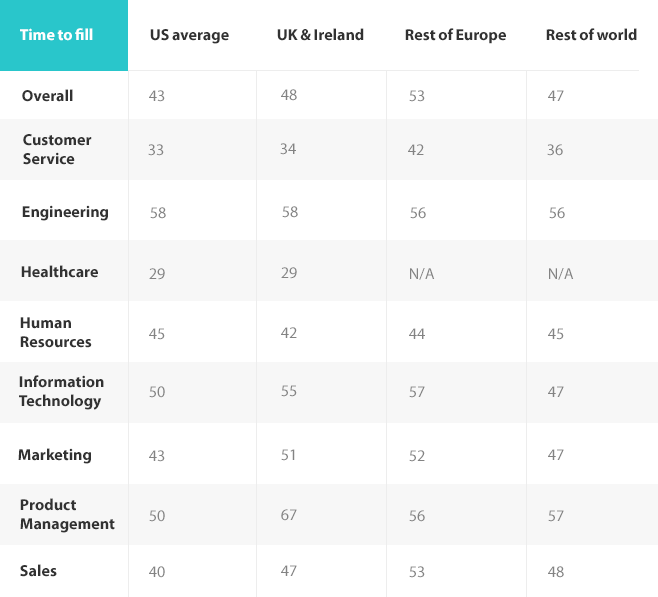 The average time to fill for Healthcare in the United State is 29 days and in Human Resources, it is an astounding 45. Imagine almost 50 days without HR! That is a lot of disorganization and expense…and while we weren't a part of this study, we assume these are mid-level roles. For more senior positions, the sourcing time and cost is typically much higher.
When filling a vacancy, most companies naively use the equation below (sourced from Jibe) alone:
Cost per Hire ($) = [Total External Costs] + [Total Internal Costs] / Total Number of Hires
Yes, that equation is important, but there are many other costs to hiring including the cost of inaction. The cost of inaction is a more complex equation than the one above. It involves extended days to fill (AKA lost revenue), burnout of other professionals who need to take up the slack and ultimately, the expense of potentially losing other team players if the search extends too long. When someone leaves, it means others will be taxed and sometimes that cost is simply too high for them to bear.
Direct search all but eliminates that complex math because an outsider is responsible for filling the role and it is in their best interest to do it as quickly as possible. They pre-vet candidates and they are focused more actively on your requisition (versus the many that inside recruiters hold simultaneously). Sourcing directly is just more efficient and is an ideal choice for certain, more costly roles.
The Numbers Don't Lie
Sure, job boards are effective in garnering applications, but direct sourcing has a better track record of success. For instance, "According to Lever, candidate sourcing is one of the most effective ways to hire. On average, one in every 72 sourced candidates is hired compared to one in every 152 applicants."
That is a huge difference! Why does this happen? It's due to the personalization and active effort that direct search involves. Sourcing is a conversation; applying to an ATS impersonal. Which would you prefer?
The Cost of a Direct Search Firm
We can't speak to other firms, but Harger Howe Direct's prices are extremely reasonable. Here are some examples:
Executive/Management:
$100k-$175k = $5k retainer & $10k completion fee for total of $15k/hire
$175+k-$250k = $7.5k retainer & $12.5k completion fee for total of $20k/hire
$250+k = $10k retainer & $15k completion fee for total of $25k/hire
Clinical-Nurse, Allied Health, Non-Clinical & IT:
Less than $100k = $2.5k retainer & $7.5k completion fee for total of $10k/hire
$100k+ = $5k retainer & $10k completion fee for total of $15k/hire
Are you wondering if you have a role that would benefit from our service? Here is a brief list of some roles we've filled recently:
Director of Network Compensation
Chief Technology Officer (CTO)
Chief Financial Officer (CFO)
Medical Practice Manager
Chief Medical Officer
Hospital President/CEO
Is your open position not on the list? Contact Mark Wedes for a full group of filled roles and ask about how he can assist with yours!
What Do You Get for Your Money?
With Harger Howe Direct, you'll achieve successful hiring at all levels of your health care organization often at half the cost of traditional search fees. Our value-focused retained fee structure features a modest retainer to commence the search for provision of candidates and final completion fee upon hire, along with a six-month guarantee exclusively for our health care clientele.
It's our longstanding practice that we report directly to Human Resources/Talent Acquisition rather than the hiring manager although talking with the hiring manager at the onset of the search is essential for our due diligence.
For our candidate presentations we'll provide a succinct rationale that accompanies the candidate's resume or CV that includes verbatim candidate conversation notes testifying to their qualifications, answers to key hiring manager questions, and other relevant details that support qualifications and fit for the opportunity/organization.
We'll also handle reference checking, degree verification, follow-up communications, offer negotiations and/or consultation, and anything else needed by Human Resources/Talent Acquisition to ensure a successful completion of the search.
--
Ready to partner up? Contact us today!