Have you ever tried to find something on your phone quickly only to be deterred by pop up ads that seem to be almost impossible to X out of? We have! Some companies use this strategy to get people to sign up for their newsletters while others use them for agressive recruitment marketing. This type of marketing is abrasive and leaves a bad impression on the user. Google clearly agrees because as of yesterday, they've decided to punish those sites.
Yesterday, Google announced on their blog that they would be making two major changes including simplifying mobile search results and helping users find the content they're looking for. So what does that mean exactly? Let's break it down.
1. Simplifying Mobile Search Results
This update comes after Google's mobile-friendly campaign that started "mobilegeddon", which directly affected traffic to non-mobile sites. Basically, when Google began making their mobile-friendly crusade, they opted to have a mobile-friendly label to help users find things they could read on their phone in an easier way, but now they feel it isn't necessary anymore. According to Google, "85% of all pages in the mobile search results now meet this criteria and show the mobile-friendly label. To keep search results uncluttered, we'll be removing the label, although the mobile-friendly criteria will continue to be a ranking signal."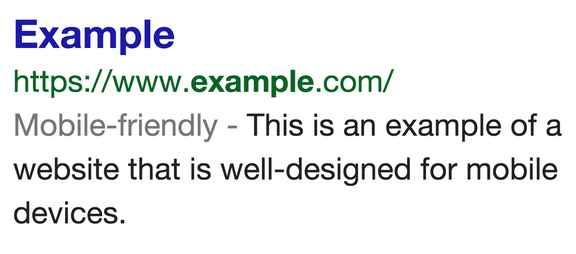 2. Helping Users Find the Content They're Looking For
This update couldn't be more welcome as it is directly in line with inbound marketing's core values. The experience should be about the user! Google mentions that the sort of distractions they will be punishing websites for are called "intrusive interstitials" and include all of the following:
Popups that cover the main content of a website (upon immediate site access or during the experience)
An ad or "standalone interstitial" that you must exit out of in order to enjoy your web session
Using a type of web design layout for your page that places content similar to a "standalone interstitial" above the real content on the site.
So how will this affect recruitment marketing? Well, there are several major areas we assume will take hits.
News Outlets
The last time you opted to read a news article online, an ad most likely interrupted your experience. You probably don't remember what the ad was for, but I bet you remember your anger at trying to click out of it only to find that you were thrown out of the story. This type of ad will hopefully disappear in the wake of this update. This is good news for the user, but bad news for the digital ad revenue of newspapers. This may also be good news for recruitment advertising banners as candidates will be able to click through more easily to the content they want to read. Although we don't have direct data on this, we would imagine that it will get more eyes on your banner ads.
Subscribers Will Be Better Quality
We are firm believers in earning email subscribers. Some people will opt-in to get your newsletter or content, but it won't help you in the long run if they don't really want it. You're much better off using Call-to-Actions at the bottom of blog posts or throughout your site that don't disrupt your user experience. Remember, every interaction a person has with your site is a chance to woo them. When it comes to recruitment, a good candidate experience is crucial to getting applicants to move forward in the recruitment process. This update will ensure your candidates are genuinely interested in your content and by association your organization and your career opportunities.
--
The first move you need to make as a human resources or recruitment professional is to make sure your site is mobile-friendly. If you're not mobile by now, you are officially already behind the curve. We have a tester for that here.
The second choice you should make is to remove all popups from your recruitment site and to stop investing recruitment marketing advertising dollars in ads that disrupt the candidate experience. In all likelihood, they won't perform well anyway and you will have the extra money to reallocate to something more effective such as native advertising or inbound marketing.
Did you like this article? Consider subscribing to our blog to receive more like it!