When was the last time you reviewed your application process from the point of view of a job seeker? Do you know where your company places ads? Do you know if they take the time to write out the job descriptions well? Have you ever applied using your company's applicant tracking system (ATS)?
If the answer to any of these questions is: I can't remember or I don't know…you need to review your process. Why? Well, the answer is simple. Without knowing what candidates have to do to get hired at your company, you are unable to tell if your recruitment marketing efforts are being wasted.
Your Ad Placement
Placing ads in the right publications or on the right websites or airwaves is an art form, but it needs to be dictated by metrics. Do you have data on your ideal candidates? Where are they looking? Where have your best hires found your ads? If you aren't capturing that sort of information, you won't know how to spend future ad dollars.
If you're a new company you can base your ad placement strategy on where certain age groups search for jobs or you can lean on a recruitment advertising agency.
Your Ad Copy

Does your ad feature a title like SPT II ICU-2? WHAT THE BEEP! What does that mean? Well, obviously to you it means Sterile Processing Technician Number 2, Intensive Care Unit 2, but to anyone else who is searching for it, it's language that only R2D2 would recognize. Work your job descriptions around search terms so that when that Sterile Processing Technician searches a site like Indeed, it will pull up your listing easily.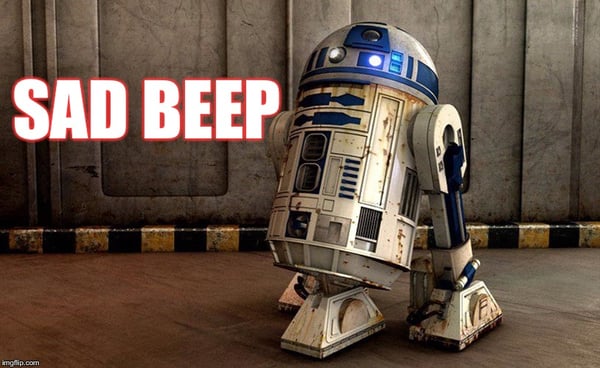 *Image from Google
Also – generic ad copy is just not going to produce results. Each job needs it's own optimized content so that it draws in the right person for the right job at the right time (with reasonable expectations). Incomplete or badly written copy can cost your strong applicants and will provide you with others who are unknowingly unqualified to perform the position. Take the time to write it well and reap the rewards.
Your Application Process
Chances are, if you were hired a while ago, you've completely forgotten what it's like to use your company's ATS. Or, you may have applied using an entirely different ATS. Companies do switch platforms and few people who have been hired before the switch experience the new one. And why should they? Well, the truth is most people won't submit a long-form application if they feel the time investment isn't worth the payoff (aka the black hole).
Consider instead a short-form application that asks for just a bit of information and redirects candidates to a thank you page. If you think they are worth moving forward, you can contact them then and ask them to fill out the long-form ATS application. They will be much more apt to do so if they think they have a solid chance at a position.
Your Communication Procedures
What happens after the candidate hits the submit button? Do they receive at minimum an automated confirmation of their apply? How long is the expected turnaround to hear from a recruiter? Does your process set up expectations? After they've been selected for an interview do you provide them with expected dates when they will hear back about a second interview? If the process is delayed do you update the candidate? How do final candidates know if they've been ruled out? All of these things should be taken into consideration.
Here are some questions (and answers) to think about:
Would you want to wonder if your application was submitted correctly? YES! Install a personalized auto-reply feature.
Would you like a timeline as to when you can expect certain events like follow-up interviews? YES! Be reasonable. Provide accurate dates or date ranges and update candidates if the time needs to be extended for some reason.
Would you like to know if someone else was selected for the role so that you can move on with your search? YES! Waiting is the worst! Tell candidates whether they can move on or not. It's only respectful and in some cases, all it takes is an automated email thanking them for their time.
Candidates are busy and if they took the time out of their day to apply to work for your company, make sure to respect them enough to keep them in the loop during the whole hiring process.
--
Recruitment marketing agencies such as Harger Howe specialize in what we like to call holistic recruitment marketing. What we mean by that is we place outbound ads, we run inbound recruitment campaigns focused on candidate needs, we build and nurture talent communities and we create candidate personas in order to understand the ideal applicant our client is seeking. Essentially, we are involved in every stage of the candidate experience up until the application is submitted. We do this by learning about the job seeker's journey.
If you'd like to learn about the path candidates take toward their next career, check out free E-Book.