Exactly this time last year The National's Business section was reporting the oil and gas industry could face a hiring freeze due to the low prices. In fact, according to that same article, jobs in the energy sector fell by 19% from the previous year's numbers in just one month.
Firms like Oxford Strategic Consulting cautioned business owners that they needed to retain a candidate pool to guard against a potential battle later on, but still hiring declined. "For those Gulf Cooperation Council (GCC) companies that decide to stop the talent flow by freezing recruitment, as many inevitably will, it would be wise for them to focus on retaining national talent," said Robert Mogielnicki, head of public relations and senior analyst for Oxford Strategic Consulting (OSC).
He said that if the talent flow of GCC nationals into the sector slows down to a trickle, it will be crucial for companies to retain existing national employees to prevent a move to a competitor during the next "war for talent" – or jumping into another industry altogether."
Don't worry though, this industry is not all doom and gloom! In fact, it's rebounding quite nicely. As of June 1st, The National's Business section started singing a much more positive tune.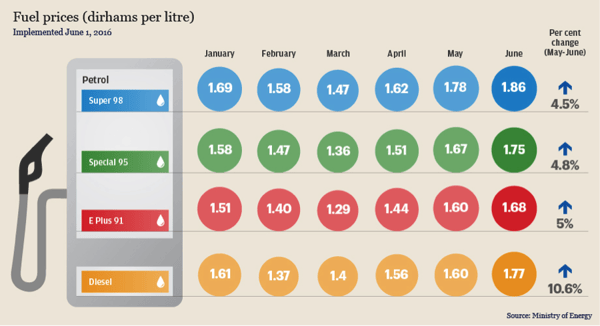 As you can see from the United Arab Emirates (UAE) graphic above, fuel pricing is up from May to June:
Super 98 – Up 4.5%
Special 95 – Up 4.8%
E Plus 91 – Up 5%
Diesel – Up 10.6%
And even the UAE Ministor of Energy is beginning to report positive feedback. "UAE Minister of Energy Suhail Al Mazroui said on Tuesday he was happy with the oil market, noting that prices had been correcting higher. 'We are optimistic. We are seeing that the market is correcting upward.'"
In addition, as of 2014 it was reported that, "nearly 50 percent of the workforce in the energy sector plan to retire within the next 10 years, causing an intellectual gap in the industry." Now that oil and gas prices are on the rise, it is the time to get in the saddle and ride towards a proactive recruitment strategy before your competitors. Here are some proactive recruitment strategies you can use in addition to job board postings and social media to be ahead of other energy sector recruiters.

1. Create or Increase an Internship Program
Many MBA graduate students are very interested in joining a field that challenges them. According to a 2013 article by Malcolm Riley, the Sector Director: Energy & Technology, Career Management Center, Fuqua School of Business at Duke, "Because MBA students represent a well-compensated, relatively small fraction of the overall workforce within these organizations, supervisor expectations will often be quite high. [These] students should focus on cultivating their abilities in data interpretation, financial analysis, market assessment, and decision modeling throughout the school year." With teachers like Riley inspiring students to go the extra mile with their internships and projects, energy recruiters should definitely consider the fact that these graduates will be prepared, play-tested and ready by the time the industry fully rebounds.

2. Offer Training Opportunities for Existing Talent
As energy recruiting efforts start gathering speed, your top talent may be offered other career options. In light of that kind of situation, some energy thought leaders have instituted powerful training opportunities that help engage and retain. Per the Recruiting & Retention Opportunities for the Energy Industry in a Changing Environment report, "the long-term incentive movement began as a strategy for knowledge transfer. Employers hope that these incentives provide the older generation motivation to stay at work and engage in their organization's training programs. Training and development departments are also creating innovative ways to void the intellectual gap. For example, some employers are recording detailed instructions for operating important heavy equipment. These videos are available through their intranet, and can be easily accessed onsite. Other programs to increase knowledge transfer include rotational
assignments to broaden experiences. These programs offer a seamless knowledge transfer that is readily available at any given time. Additionally, these new training and mentoring programs allow organizations to hire workers with no or limited training. With such great mentoring and development programs, organizations hope to keep employees from being lured away by other organizations."

3. Consider Benefits and the Work-Life Balance Factor
In a struggling industry it is hard to consider upping benefits, but those sort of proactive decisions will help you obtain and retain top talent. We suggest that you review your current offerings and consider updating and enhancing those options in order to stay industry competitive:
--
There is no magic wand to wave when it comes to recruiting for any industry, but staying ahead of the curve is always a smart move. Review the strategies you have in place, add some newer options and consider how you promote those powerful incentives to increase your employer brand.
Not quite ready to start overhauling? Consider making small changes like updating your recruiter profile so that you are ready to receive applicants (we have a great tool for that update here) or building a more robust social media careers page. For those who aren't familiar with a social media careers page, make sure to check out our E-Book.