Though recruitment marketers aren't heavily using Pinterest yet for sourcing, they should really begin to build it into their social media budgets for 2017. According to a recent article from the Wall Street Journal called Pinterest showing it can compete with Facebook, Twitter Pinterest has 150 million users across the world that use the service at minimum, monthly.
In addition to that staggering number, Pinterest is proving it has real staying power in a market that is often fickle. Pinterest is six years old, which in digital media is ancient and according to the article, it "expects to triple last year's revenue to $300 million in 2016." Though Pinterest has yet to surpass Twitter, it's growth rate is higher. And, while Pinterest's main ad market currently consists of retail, it has a strong potential for recruitment marketing. Here are some ways recruiters can harness the power of Pinterest to pull in top talent.
Create Custom Pin Board Based on Candidates
Some ideas for boards could include: Employee Benefits, Employee Outings, Hot Jobs, New Hires, and even specific section-based boards like Human Resources or IT Pros. The most important part is to have fun and post engaging, real visuals that people will want to click. These clickable options should lead to educational material that would help a job seeker learn about your company and should also be valuable to existing employees. Remember, while you can include a board with Hot Jobs, it isn't all about them. The Pinterest experience (and any true candidate sourcing funnel) needs to offer something that an ATS can't. It needs to humanize your recruitment brand.
For example, Hubspot has boards dedicated to The Hubspot Culture, Behind the Scenes and more.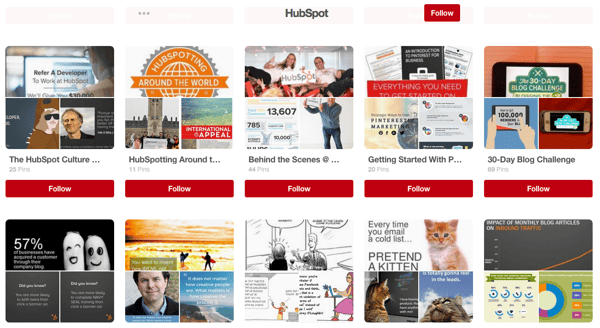 Promote Your Pins
Are you trying to build a workplace culture brand? Consider boosting your awareness with pins featuring happy employees or interesting professional programs. Campaigns on Pinterest work in a similar manner as other pay-per-click platforms, so you will only pay the amount you put on account and only when someone takes a decided action. You can choose Awareness to build your brand, Engagement to help people find and re-pin your pins or Traffic to pull candidates directly back to your site. The possibilities are endless!
Create Value
What are the biggest recruitment hurdles you face as a recruiter? Is it the fact that candidates don't understand that you offer relocation assistance? Is it that people don't know where you are or why they should come there? If you can get into the head of your ideal candidate and isolate why they may be either not finding you in the first place or turning down your offer. Then, after finding the issue, you can create custom tools that could win that person over.
For instance, if people don't know what there is to do in Virginia, you could create a custom infographic detailing the highlights around your company. This infographic could be placed in a section called Candidate Tools and could lead back to your site. Wah-lah, educated and interested candidates!
--
The reality is, Twitter and Facebook are still major players in the recruitment market, but next time you are planning out costs, allocate a bit towards a Pinterest set up and campaign. What do you have to lose?
Want to hear more about trends in recruitment? Subscribe to our blog!